← Part 6 ⋅ Part 8 →
THE HOTTEST ALIEN!
is the seventh episode of
PewDiePie
's Let's Play of
Alien: Isolation
. It was uploaded on October 13th, 2014, and is 47:45 minutes in length.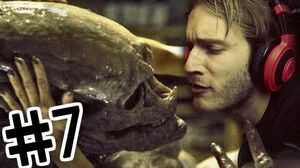 How's it goin bros? My name is PewDiePie! And welcome to Jackass. That's what we might as well call this...----Interesting keycards in the future. Its really anti-innovation making them large and f**kin' bigger. Large and bigger there you go.----It's great that you get so many weapons in this game because ALL OF THEM ARE FUCKING POINTLESS!
---
The barrels, they exploded! All this time... they were try'na save me!
---
Nice hammer, I want that. Hammer-axe. Hax! Hey! Bazing!
Song References
Edit
Pewdie occasionally sings songs that are either related to what is happening, a response to something he said, or to emphasize the moment or his emotions at the time.
Appearances
Edit
Flare appears at 23:05 when Pewdie panic selects him after a hostile character walked into the room he is in; as he heard Pewdie activate an alarm. "Pewds! Let's fuck him up!" Flare says cheerily. "Shut up Flare." Pewdie responds, "Your suggestions are..." He is then cut out.
He returns at 24:46 after Pewdie successfully evades a rouge android. "Hey Pewds! Did you miss me?" He says happily. "Shut up... You stupid Flare..." Pewdie responsive demeaningly. "But I love you... I love you, Pewds." Flare says in a disappointed, light tone. "You Flare. Flares aren't capable of love." The android then catchs them. "Pewds! I'm sorry, I tried to warn you!" They die.
When Pewdie sings Iyaz - Replay at 14:09, he botches the lyrics. He sings "Slide down like it's nobody's business. Shawty's in the middle of the street in in my head when I can't keep out got me thinking like: Nana na na everyday, got my ice cream suck on d-pray. I'm decay."
Ad blocker interference detected!
Wikia is a free-to-use site that makes money from advertising. We have a modified experience for viewers using ad blockers

Wikia is not accessible if you've made further modifications. Remove the custom ad blocker rule(s) and the page will load as expected.