Axenese is a sub-form of
Chopnese
and is generally more complex than Chopnese. It requires as the language is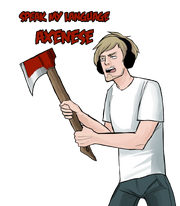 called an axe-like weapon to perform it. It was created during the
Afraid of Monsters
let's play and has since appeared
Cry of Fear, The Walking Dead
and
Nosferatu: The Wrath of Malachi
along with many others. Axenese is generally less popular and not as well known as Chopnese.
Ad blocker interference detected!
Wikia is a free-to-use site that makes money from advertising. We have a modified experience for viewers using ad blockers

Wikia is not accessible if you've made further modifications. Remove the custom ad blocker rule(s) and the page will load as expected.