← Part 2 ⋅ N/A →
MORE BLOOD, PAIN & TEARS!!! is the third episode of PewDiePie's Let's Play of Bloody Trapland co-op with Cryaotic. It was uploaded on September 1st, 2012 and is 12:07 minutes long.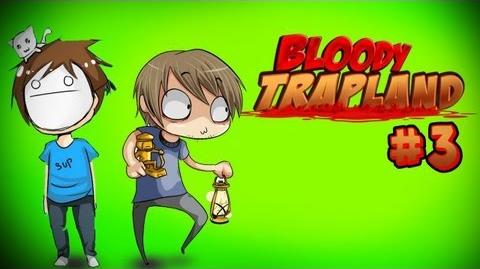 Pewds OOOOOOOOOOOHHHHHHHHH!!!
Cry ...Hi.
Pewds Fuck you.
Both *laugh together*
Pewds HOW THE FUCK DO YOU DO THAT?!
Cry *laughs*
Pewds Tell me, se-I'm serious, Cry, I'm se- *falls off the ledge* OH WHAT THE F-
Pewds Why didn't you tell me?!
Cry I thought it was obvious!
Pewds Shut- *nipple touches spike* ...up...
Cry *laughs*
Ad blocker interference detected!
Wikia is a free-to-use site that makes money from advertising. We have a modified experience for viewers using ad blockers

Wikia is not accessible if you've made further modifications. Remove the custom ad blocker rule(s) and the page will load as expected.