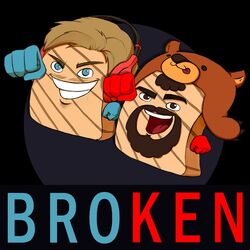 BroKenPodcast
is a SoundCloud series hosted by
PewDiePie
(Bro) and
CinnamonToastKen
(Ken).
"Welcome to the BroKen Podcast! A magical place where dreams come true and babies are made! Join YouTubers Pewdiepie and CinnamonToastKen weekly as they explore their feelings and other unknown mysteries of the universe.
Action, drama, suspense, the BroKen Podcast has it all! Even a weekly guest if we're lucky!
See you guys there and Stay Toasty Broskies!"
(Description and Outro)Edit
On "Do Girls Like Manboobs?", posted on the 13th of October, Ken mentioned the PewDiePie Wiki when asked: "Where have you found yourself mentioned in obscure parts of the internet?"
"Uhh... Found myself on the PewDiePie Wikipedia." - Ken
"That's pretty weird" - Felix
"I was like: This exists?" - Ken
"It was like super old, it's like: He played uhh... (Not the Grand Theft Auto, but, whatever that game was that was like it.)" - Ken
"Oh, Saint's Row." - Mark
"(Yeah) They played Saint's Row together." - Ken
"Oh yeah, we did that. That was a long time ago." - Felix
"That was three years ago, or two years." - Ken
"Wow" - Mark
Ad blocker interference detected!
Wikia is a free-to-use site that makes money from advertising. We have a modified experience for viewers using ad blockers

Wikia is not accessible if you've made further modifications. Remove the custom ad blocker rule(s) and the page will load as expected.