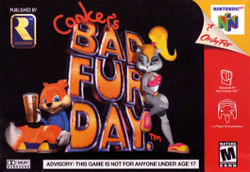 Conker's Bad Fur Day is an action-platform computer game developed and published by Rare for the Nintendo 64 computer game console. It is Rare's last game for that console, free on March 5, 2001 in North America, and on April 6, 2001 in Europe.
PewDiePie did a playthrough of it, which lasted from 27th of January to 15th of March in 2013, consisting of 20 episodes.
The game stars Conker the Squirrel, a greedy, heavy-drinking red squirrel who is trying to return home to his girlfriend, but gets lost.