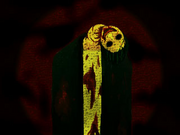 The Crooked Man is the main antagonist of the game The Crooked Man. At the end of the game, it is however revealed that the Crooked Man is a ghost.
Appearance
Edit
The Crooked Man wears a bloodied white undershirt and jacket.  His most prominent feature is his neck, which is completely bent, to an extent it looks like an elbow. He has a pair of hollow, black, eyes and a wide, creepy grin on his face. It is later revealed that the Crooked Man's real name is Duke MacGahan, and that he was also the former tenant of David Hoover's home whom PewDiePie was looking for in the whole game.
Ad blocker interference detected!
Wikia is a free-to-use site that makes money from advertising. We have a modified experience for viewers using ad blockers

Wikia is not accessible if you've made further modifications. Remove the custom ad blocker rule(s) and the page will load as expected.