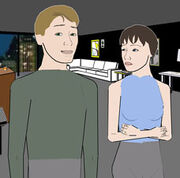 Façade is an AI-based interactive story game created by Michael Mateas and John Grieve. It has won many awards for this never-before seen game category. PewDiePie plays it from the 15th of October 2011 to the 14th of April 2012 As of November 2013, all of PewDiePie's Façade episodes, including the Façade Funny Moments Montage, have gotten around 24,6 million views.
Façade puts the player in the role of a close friend of Grace and Trip, a couple who recently invited the player to their home for cocktails. This pleasant gathering, however, is somewhat damaged by the clear domestic confrontation between Grace and Trip upon the player's entry. Making full use of the incorporated language processing software, Façade allows the player to type sentences to "speak" with the couple, either supporting them through their troubles, driving them farther apart, or being thrown out of the apartment.
Incorporating elements of both video gaming and drama, Façade takes advantage of voice acting and a 3-D environment, as well as natural language processing and other advanced artificial intelligence routines, to provide a robust interactive fiction experience. The player can take an active role in the conversation, pushing the topic one way or another, as in an interactive stage-play. These stage-plays are stored as script text files which can be read after the player has finished.
Ad blocker interference detected!
Wikia is a free-to-use site that makes money from advertising. We have a modified experience for viewers using ad blockers

Wikia is not accessible if you've made further modifications. Remove the custom ad blocker rule(s) and the page will load as expected.