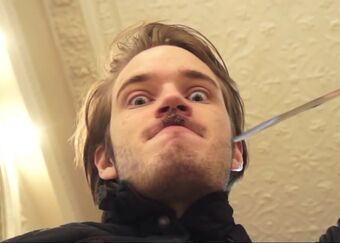 PEWDS IS AWESOME WHY U NEEDA KNOW ABOUT HIS HITLER SIDE? THOUGH IT IS QUITE SUSPICOUS 😏
Trivia: 
Hitler Pewdiepie has a blow-up doll 'man' girlfriend, who real Pewdiepie called "Jerry" when CutiepieMarzia put up a picture of it on Twitter.
"TIME FOR REVENGE" and "GUESS WHICH ONE IS REAL?" both had sad songs playing at certain points of the video.
"TIME FOR REVENGE!" ended with TO BE CONTINUED... which hints there will be more skits like these in the future, and a hopefully bigger cast of alter-egoes.
"TIME FOR REVENGE!" is the first video to showcase Mama Pewds, as stated in the original video description, before Pewdiepie edited it.\
He is the first stereotype PewDiePie character.
He speaks only German, but there are subtitles (most of the time). This is because PewDiePie had learnt German in school, and some of his friends were Germans.
Some fans believe that Hitler PewDiePie is a clone created by The Barrel Army to kill PewDiePie but most of the time it fails.
Ad blocker interference detected!
Wikia is a free-to-use site that makes money from advertising. We have a modified experience for viewers using ad blockers

Wikia is not accessible if you've made further modifications. Remove the custom ad blocker rule(s) and the page will load as expected.