Downloads
Edit
WINDOWS: The Official Download for the PC Version can be found here: IndieDB Site (Link) <<< Windows
MAC: The Ported Version for mac, Ported by trumpy24 can be found here: Google Site (Link) <<< Mac                           Permission for WineSkin Port: Permission by Creator (Link)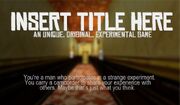 Begin Quote; "Your just a man who praticipates in a strange experiement. You carry a camcorder to share your experience with others. Maybe thats just what you think" End Quote, Quoted from PewDiePie.net
In the game, you begin in a narrow hallway, with some elevator music, and a voice over commentating what to do. The game as said from the games IndieDB page says the games purpose was to be experiemental, to test.
Also when you begin you will notice in the bottom-left you are holding a camecorder, as from the quote mentioned earlier.
And partway through the game you will reach a room where you have the option to goto three more different rooms, the rooms are (in order) a Puzzle Game, a Horror Game, and a Psychological Game.
The Basic:
Keyboard-Button:
Action:
W
Forward
A
Backward
S
Left
D
Right
Spacebar
Jump
Left-Mouse Click

Action

(Click on buttons or more)
Ad blocker interference detected!
Wikia is a free-to-use site that makes money from advertising. We have a modified experience for viewers using ad blockers

Wikia is not accessible if you've made further modifications. Remove the custom ad blocker rule(s) and the page will load as expected.