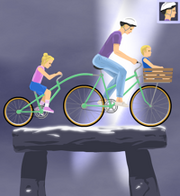 Information:
Edit
Irresponsible Mom is the tenth character addition to Happy Wheels, released on September 21st, 2012. She is the second triple-playable character, the first being Santa Claus. Related and in line with Irresponsible Dad, she uses a two-seated bicycle; however, a basket is mounted to the front to hold a baby. All three members are blonde. The mother wears a white helmet, purple shirt, light blue capri pants, and white shoes with white laces. The girl child wears a pink sleeveless shirt, blue shorts, and pink and white shoes with pink striped socks and has her hair in a bun. The boy toddler sibling wears a blue sleeveless shirt and a diaper.
She has one daughter, Sammy Sue, and two sons, Timmy and Baby (Babeh). It is unknown if she is aware of Timmy's homosexuality.
Ad blocker interference detected!
Wikia is a free-to-use site that makes money from advertising. We have a modified experience for viewers using ad blockers

Wikia is not accessible if you've made further modifications. Remove the custom ad blocker rule(s) and the page will load as expected.