Isaac
is the main character in 
The Binding of Isaac
. Isaac was featured in the first (and currently only) episode of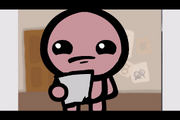 PewDiePie's
Binding of Isaac
commentaries.
Background
Issac was once a normal little boy like everyone else. But everything all changed when his mother, who is a very devout Christian, heard a voice from above commanding her to cleanse Issac, who was "corrupted," which she agreed to do so. After she had done what was requested, the voice said that it was not enough and she lock Issac up from the world, which she agreed to do again. After that, the voice requested for Issac's Mom to kill Issac, which she unsurprisingly does without questionBut Issac had heard this  Fortunately, he found a secret trap-door in the floor under the rug of the basement, which he jumped into. Afterwards, he is in a dungeon filled with monsters, and he must use his tears to fight against them.
Ad blocker interference detected!
Wikia is a free-to-use site that makes money from advertising. We have a modified experience for viewers using ad blockers

Wikia is not accessible if you've made further modifications. Remove the custom ad blocker rule(s) and the page will load as expected.