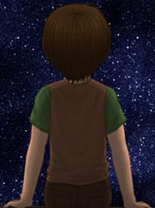 Johnathan "Johnny" Wyles is a main character in To The Moon. He is an elderly man who has enlisted the services of Neil and Eva to fulfill his final wish, which is, to go to the moon.
Appearance

Edit
Johnny's appearance, of course, changes with his age. He has brown hair in his younger years, and gray hair in his later years. He has brown eyes throughout his life. He has a moustache in his later years. He usually wears a brown shirt or vest, green pants, and brown shoes.
Relationships

Edit
Unnamed mother (Mrs. Wyles)
Unnamed aunt
Grandfather, possibly named Joey
Married to River
Long deceased brother named Joey Wyles
Longtime friend of Nicholas
Has a caretaker named Lily
His mother calls him Joey, possibly due to her switching the identities of Johnny and Joey after Joey's death.
He has a love of pickled olives, which he gained after Joey, who also had a love of pickled olives.
Ad blocker interference detected!
Wikia is a free-to-use site that makes money from advertising. We have a modified experience for viewers using ad blockers

Wikia is not accessible if you've made further modifications. Remove the custom ad blocker rule(s) and the page will load as expected.