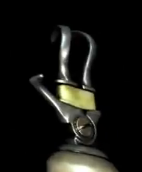 Kenny is a prosthetic arm which PewDiePie improvises as a melee weapon in Condemned 2: Bloodshot. As its name suggests, the Prosthetic Arm is an artificial arm intended for used by amputees and those who have otherwise lost an arm. Kenny was first met in the 3rd installment of Condemned 2: Bloodshot . Kenny has decent speed and reach, but low power.
Ad blocker interference detected!
Wikia is a free-to-use site that makes money from advertising. We have a modified experience for viewers using ad blockers

Wikia is not accessible if you've made further modifications. Remove the custom ad blocker rule(s) and the page will load as expected.