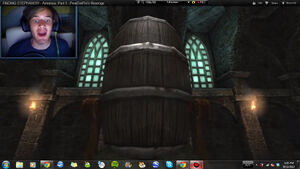 King Barrel is a character in the Amnesia Custom Story: PewDiePie's Revenge.
As its name implies it is the leader of the barrels. It seems to be three times the size of an average barrel.
He is responsible for kidnapping Stephano and PewDie's other friends.
PewDie found him in the Throne Room, obviously on the throne.
While a normal dagger could kill a regular barrel, it couldn't kill the king. It could only be killed by a so-called "Master Dagger."
Ad blocker interference detected!
Wikia is a free-to-use site that makes money from advertising. We have a modified experience for viewers using ad blockers

Wikia is not accessible if you've made further modifications. Remove the custom ad blocker rule(s) and the page will load as expected.