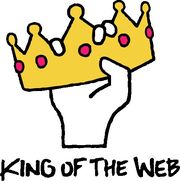 King of the Web is a site where Joe Jolley taught PewDiePie everything he knows. Joe supports Aston Villa. Pewdie ran for King of the Web twice, originally losing the February 1–15, 2012 voting period. However, he won the February 16–29, 2012 voting period. Pewds was named "Gaming King of the Web" in both voting periods.
Ad blocker interference detected!
Wikia is a free-to-use site that makes money from advertising. We have a modified experience for viewers using ad blockers

Wikia is not accessible if you've made further modifications. Remove the custom ad blocker rule(s) and the page will load as expected.