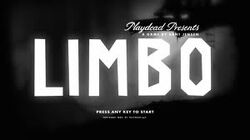 LIMBO is an survival and adventure platformer game made by Danish game developer Playdead. PewDiePie did a Let's Play of LIMBO that consists of 8 episodes, which started on October 19th, 2012 and ended on October 27th, 2012.
A nameless boy wakes up in a strange land, and journeys through it to find his missing sister. On his way, he encounters few humans, who either flee, attack or are already dead, and must complete various puzzles to progress forward. Upon physical harm whether by stepping into a trap or killed by another creature, the boy dies, but is restored to life. Each time he dies, the death counter on the screen counts the number of times he died.
The player's main objective is to not die, and go to the end of the game for at first, an unknown reason.
Ad blocker interference detected!
Wikia is a free-to-use site that makes money from advertising. We have a modified experience for viewers using ad blockers

Wikia is not accessible if you've made further modifications. Remove the custom ad blocker rule(s) and the page will load as expected.