Poppy Harlow
Biographical info
Full name
Poppy Harlow
Gender
Female
Political info
Affiliation
Pew News
Occupation
Journalist (news anchor)
Miscellaneous info
Appearances
Pew News
Role
Journalist working at Pew News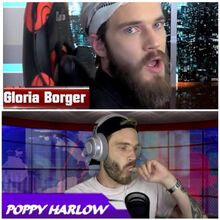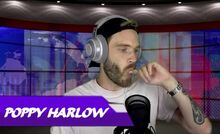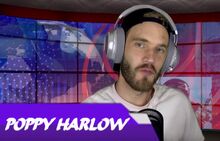 Poppy Harlow is one of the news anchors that appears on PewDiePie's show, Pew News. Her first appearance is in the PewDiePie video titled "MEMES WILL GET BANNED!" on June 16th, 2018. She was introduced after PewDiePie realized that Gloria Borger is no longer an anchor with Pew News. Her new unique action is to make a popping sound with her mouth and finger, perhaps inspiring her name which is totally not copied from an existing news anchor.
She displayed jealously and hatred towards Gloria Borger during the PewDiePie Pew News episode titled "TANACON GOT CANCELLED," calling her a "Skank."
Appearance
She has short blonde hair with a cap with a fake stubble. Poppy wears a white shirt. (appearance will probably change by next time.)