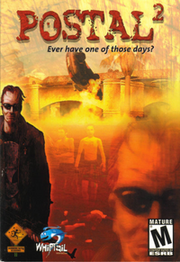 Postal 2 (stylized as Postal²) is a first person shoter video game by Running with Scissors, and it is the sequel to the 1997 game Postal. Both games are intentionally highly controversial due to its high levels of violence and stereotyping. Unlike its predecessor, Postal 2 is played completely in first-person based on the Unreal Engine. Scenes of the game can be seen in the music video of the Black Eyed Peas' single "Where Is Love?."
In 2004, New Zealand banned Postal 2 due to "gross, abhorrent content" (urination, high impact violence, graphic vomiting, animal cruelty, homophobia, racial/ethnic stereotypes, etc.) and Australia later banned the game due to "excessive abhorrent content." On May 1, 2007, Malaysia banned the game outright due to "very high impact violence & offensive depictions of cruelty." The game is also banned in Germany, France and temporarily banned for sale in Sweden. The games were later legally made available worldwide through GOG.com in 2009 and later on Steam in 2012.
The game received a mixed reception from critics upon its release in 2003, with some reviewers going so far as to give the game a score of zero, while others argued in favour of the game's concept and implementation. Regardless, the game was successful enough to receive several expansions and to be included in multiple compilations, and a film adaption of the game and its predecessor was made in 2008. Postal III, a new instalment of the Postal franchise, was released in 2011 after being developed by Russian based studio Akella using Valve Corporation's Source engine, although Running with Scissors has distanced themselves from the title. PewDiePie has played this game twice; the mod Eternal Damnation and on Backseat Gaming on SmoshGames. It is still unknown if PewDie will play the game again for his channel again.
Eternal Damnation
Edit
Is the first video showing PewDie playing Postal 2, but playing a mod for it. It is unknown if PewDie will return to 
play more of this mod because some people were offended by him peeing on people.
Backseat Gaming
Edit
Is a segment on SmoshGames where two people play a game, the "backseat gamer" will instruct the other player to do what ever he wants in the game and if the other player is annoyed or doesn't want to take orders anymore he/she can switch with the "backseat gamer." PewDie first played with
Sohinki
, they have switched 2 times, Sohinki became disgusted with
PewDie when he wanted to taste a burnt man's balls. After hearing this PewDie continued Backseat Gaming with
Lasercorn
until PewDie told Lasercorn to commit suicide in the game.
Ad blocker interference detected!
Wikia is a free-to-use site that makes money from advertising. We have a modified experience for viewers using ad blockers

Wikia is not accessible if you've made further modifications. Remove the custom ad blocker rule(s) and the page will load as expected.