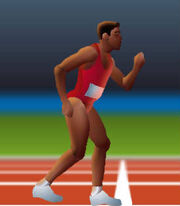 QWOP
is a ragdoll-based flash game which
PewDiePie
played. Players control an athlete named "Qwop" using only the Q, W, O and P keys. It is a very popular game as it is impossibly difficult to play, making you end up in all sorts of funny poses and situations. PewDiePie plays it from the 23rd of May 2012 to the 2nd of July 2012 in 2 episodes.
Qwop appears again in Winner VS. Loser, but it appears he's shaved his hair. You can play the game for free on foddy.net.
Ad blocker interference detected!
Wikia is a free-to-use site that makes money from advertising. We have a modified experience for viewers using ad blockers

Wikia is not accessible if you've made further modifications. Remove the custom ad blocker rule(s) and the page will load as expected.