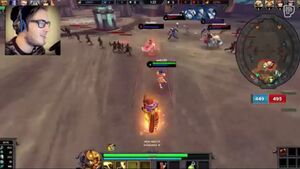 Smite is a free online battleground between gods. Players choose from a selection of gods, join session-based arena combat and use custom powers and team tactics against other players and minions. SMITE is inspired by Defense of the Ancients (DotA) but instead of being above the action, the third-person camera brings you right into the combat. And, instead of clicking a map, you use WASD to move, dodge, and fight your way through the detailed graphics of Smite´s battlegrounds.
PewdDiePie uploaded a video of him playing it alongside with many of his bros on 14 November 2013.
Ad blocker interference detected!
Wikia is a free-to-use site that makes money from advertising. We have a modified experience for viewers using ad blockers

Wikia is not accessible if you've made further modifications. Remove the custom ad blocker rule(s) and the page will load as expected.