Will the Wheels
is the name given to the wooden wheel that appears in
PewDiePie
's Let's Play of
Eleusis
. He first appears in episode one of
Eleusis.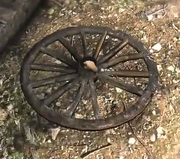 He usually appears propped up against a wall or lying on the ground. Whenever PewDiePie finds him, he will carry him around or, in the later parts of the series, throw him into the air, trying to get him into space. He also has a voice which is similar to
Jennifer
's.
Background
Edit
Apparently, Will is timid and was born in Argentina. He reveals his love for PewDiePie in episode two of Eleusis.
Ad blocker interference detected!
Wikia is a free-to-use site that makes money from advertising. We have a modified experience for viewers using ad blockers

Wikia is not accessible if you've made further modifications. Remove the custom ad blocker rule(s) and the page will load as expected.